Step By Step Guide on How To Build a B2B Digital Online Community
This content was provided by Chris Detzel

.

This originally appeared at Chris' website.
Step By Step Guide on How To Build a B2B Digital Online Community
June 15, 2021
|
Online Community
How to build an Online Community from Scratch, again….
In December 2020, I wrote a blog called How to Build a B2B Community. There were several reasons that I wrote that blog. To start with, I was leaving my previous company at Imperva, where I built their community from scratch; to start at a company called Reltio. I knew that this blog would help me build Reltio's community, but my hope was and is that it helps others. Reltio is a SaaS Master Data Management vendor, and they are hiring and expanding their footprint in the space super-fast.
I was tasked to build Retlio's online digital Community from scratch. Maybe there is a theme somewhere in here, and that is, I like building things! Reltio wanted me to build the online community fast. Right before I started at Reltio, I thought about how to map out how I was going to tackle building their first online community faster and better than I did at Imperva.
In this step-by-step guide on how I built Reltio's online community from scratch in only four months, I will walk you through the process of how I did it. Before I tell you all the juicy details, know that this process has worked for me three other times. It is not perfect, but it will lead to getting your community up fast and get value to your users quickly.
When I first started Reltio, December 21st, 2020, my first goal was to get to know as many employees as possible. The first day I started, I realized that the company uses Slack as an internal chat or "community" as I use that word loosely. No one really introduced me, mainly because it was a few days before Christmas. So, me being me, I introduced myself. Also, since I started right before Christmas, most people were off until the new year. I did get a chance to talk to 20-30 people within the organization before the new year. This leads to the first step.
Being a team of one, I had to think about how I can build a virtual team and fast.
Build A Virtual Internal Team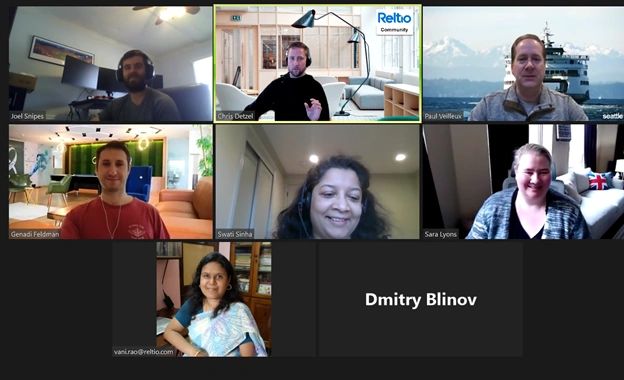 I have said this a hundred times. The employees are the key to having a successful and thriving digital Community. During my conversations with 20-30 people, I found that there was a ton of excitement about a Reltio Community. Because of the interest I started a weekly call with different people within the organization. The people you see here are part of support, marketing, sales, partner success, Technical Account Management and a very smart guy that can help me connect business systems in Engineering. Over time, more and more people wanted to come, and I opened it up to the product team and some others that cared to come. At first, during these meetings, I would go over the things that needed to be accomplished when building an online community. I put together a community project plan that would allow me to assign owners to certain items that needed to be done. The Community project plan helped me to communicate the things that needed to get done to build the community.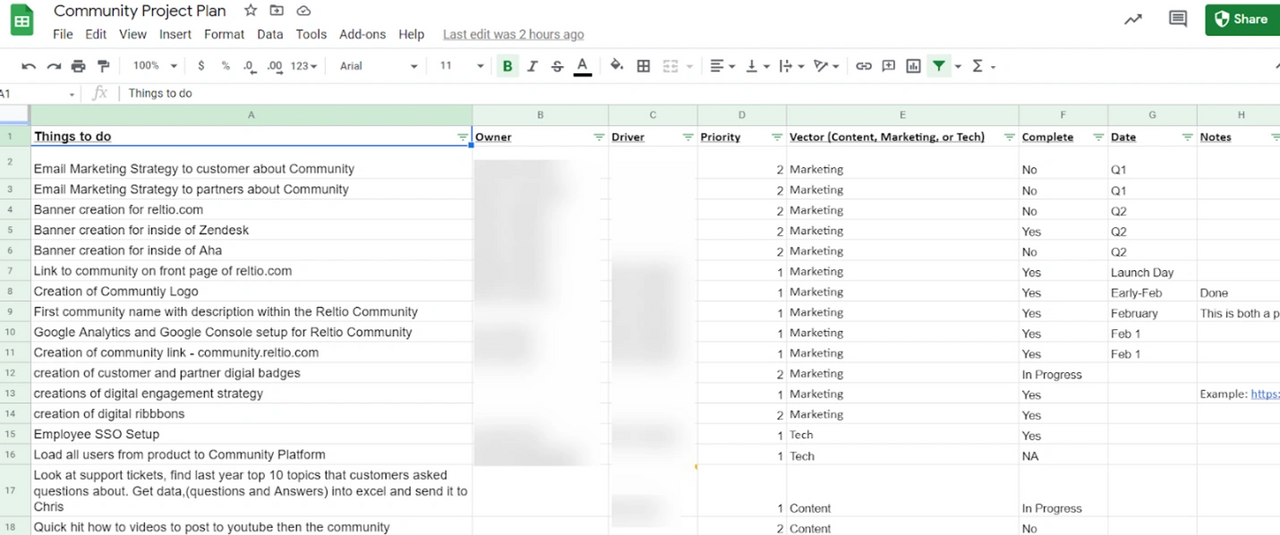 During this same time, I knew I had to pick a Online Community Vendor Criteria
Online Community Platform Vendor Selection
To be honest, I already had a good idea of who my vendor of choice would be here. What I did not want to do is assume I had it all figured out. Sometimes there are politics in companies that you want to make sure that you do not overstep your boundaries. In my first few days of being at Reltio, I had an opportunity to talk to the Founder and CTO of Reltio, Manish Sood. I was really excited to talk to him, and honestly, I was a bit nervous. During this conversation he said something to me that allowed me to hit the ground running. He said, "You are the expert in this area, pick a vendor and go." When Manish said this, I felt empowered. This allowed me to do what I do best and that was to start to build the foundation of Reltio's Community fast! There is a ton that goes on around vendor selection. During this process I get to talk to all kinds of people. This includes internal heads of legal, finance and security. When you build an online community, make sure you understand the vendor landscape. Be prepared to answer some of the more technical internal security questions and legal questions. These questions and answers are crucial to make sure you can get the vendor through. Look below.
It is no secret that I selected Higher Logic. All for the same reasons listed here. I knew that I could build a better UX / UX for our employees, customers, and partners. I knew I could build this faster, and I did. Look below.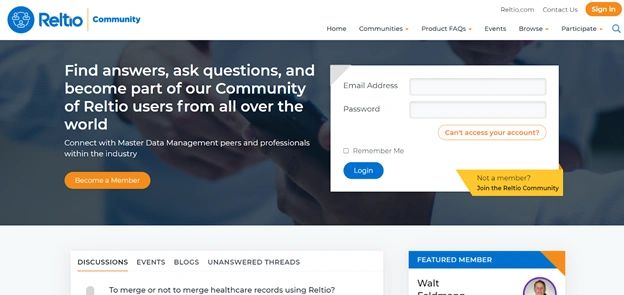 Logged In View
There are a few other reasons I chose Higher Logic for the second time around.
Familiarity with the platform – I have worked with them in the past and I knew exactly who to go to build this fast. Also, a company called eConverse Media built the design and did the development of the site. I told them exactly what I wanted, and they did it. There can be tons of custom designs that you can do with the Higher Logic platform that most do not know about. Check them out if you have Higher Logic. That is all they do, is build the design and the development. They are also very affordable.
Higher Logic, from my experience, has an amazing way to personalize the customer's journey and experience. From my knowledge, there is not any other platform that will allow you to personalize the customer's experience. They use what they call automation rules. The community manager can set up automation rules to do this. Automation rules allow you to do a lot of different things like Newsletters, create 30-60-90 onboard journeys for new customers, set up the customer experience to engage customers in different ways and literally hundreds of other things.
Strategic Services – This is an additional service, but for a one-person team, well worth it. I work with Shannon Creghan, on the Higher Logic side, and I have a weekly conversation, six-month review of how the community is doing and a ton more. She helps me build automation rules, strategy thinking, tactical thinking and way more. I'm fairly sure that if it were not for her, I would have a hard time getting everything done that needs to be done. I worked with her at Imperva and now Reltio.
There is a lot more to think about than just vendor selection. I am the kind of person that likes to go fast, build fast, and make it happen. Some community leaders do not put this at the front of the things to do, but working at a software SaaS company, they mostly have the same things in mind when it comes to goals. That leads us to the next step in the process, building a strategy.
Build a Digital Community Strategy
When I arrived at Reltio, I had a good idea on what the Community strategy would be for Reltio's community, but you still must build one. This helps to start communicating why you are building out the community in the first place. I try to break this up into pieces. After speaking to many people in the organization, you will figure out what is the most important. Community can be tied to many strategic themes and solve a lot of business problems. The key is to start small and grow from there.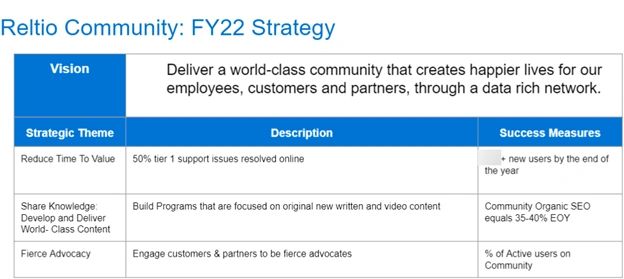 I came up with a vision statement. This is important to do, so that the organization can understand why the community. Then I tied the community to three major business goals called Strategic Themes, added what specific to those themes that Community could help and put some success measures around how I could go and accomplish these things. It is important to wrap your community strategy into business goals. Doing this will create internal buy-in and will allow you to get additional funding when the time comes. To be able to execute you need to then build a roadmap.
Build a Digital Community Roadmap
Building a community roadmap allows you to execute on your strategy. The way I was taught to build a roadmap is to quickly think of everything you need to do with your community in the next 12 months. Write them all down on a sticky note. Then go to the board, draw out Q1 through Q4. Look at all the things you need to do, put a priority on them. Once you figure out the priority, then start adding the high priority things you need to do to Q1. Once that starts to fill up, then add the next highest priority to Q2, then so on. For the most part, you now have your roadmap. When showing your roadmap to executives, they do not need to see everything. They just need to see the high-level stuff, based on quarter. It is important to show the business that you have a plan, and once you get agreement on that plan by your stakeholders, you are off to the races. There are a thousand ways you can build a roadmap, but this plan has worked for me.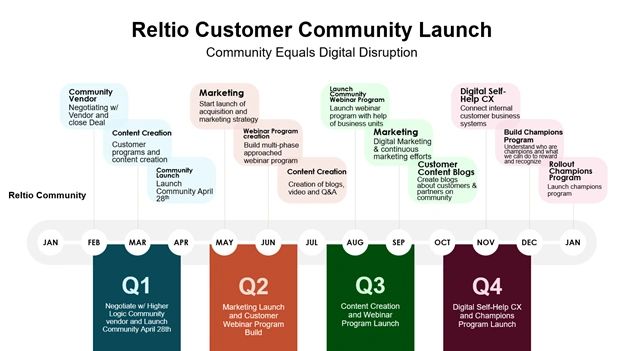 What we did not talk about in this blog is the marketing or content strategy. I will not go into it here, but they are important pieces to solve, so that your users know how to get to your community and building a good and relevant content strategy will bring your users to your site through Google. This includes adding a link to the digital sites, such as your company's website, the documentation website, and your support portals. Additionally there are a ton of other tactics to do when you build a digital community from scratch, such as seeding questions, finding users and getting to know your community users.
I hope this guide helps. Feel free to email me your questions or please comment below. Good luck!