The Power of Community Metrics for Data-Driven Storytelling
This content was provided by Chris Detzel. This originally appeared at Chris' website.
As we move deeper into the digital age, online communities have become an integral part of our lives. From social networks to niche forums, these virtual communities provide a platform for people to come together, share ideas, and connect with like-minded individuals.
But what sets successful online communities apart from the rest? It all comes down to metrics, and more importantly, the story behind those metrics. In other words, you need to be able to tell the story of your online community's performance in a way that resonates with your audience.
At Reltio, we've made it our mission to deliver a world-class community that creates happier lives for our employees, customers, and partners through a data-rich network. And in FY23, we accomplished some significant milestones that demonstrate the power of community building.
First and foremost, we saw a significant increase in customer success, with 81% of customer accounts now on the community compared to 60% last year. This increase in engagement is a testament to the value our community provides to our customers, allowing them to connect with one another and access valuable resources.
We also hosted 33+ live shows with over 2,500 overall attendees for the year, bringing in about 1,100 unique attendees. This not only speaks to the popularity of our community, but also to its ability to drive product adoption and bring in new leads.
Perhaps most importantly, our community shows were able to influence a whopping $13 million in pipeline revenue for the full year. This is a clear indication that our community is a crucial factor in creating revenue through expansion, as we're able to reach new audiences and build stronger relationships with our customers.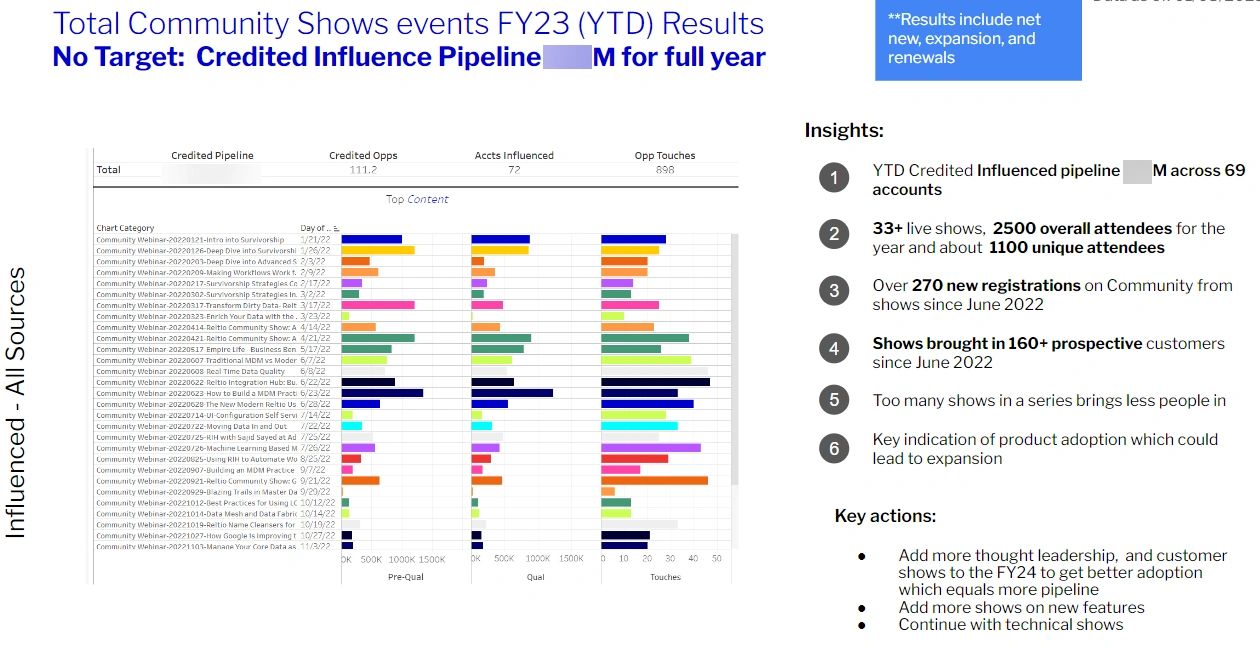 Finally, we were thrilled to welcome 10 new members to the Reltio Executive Council this year, demonstrating the high level of interest that executives from our customer base have in engaging with Reltio. This is a clear sign that our community is not only benefiting our customers, but also our company as a whole.
In FY23, we've seen community content play an increasingly important role within the Reltio organization. From customer case studies to written content on our main website, community contributions are helping us better connect with our audience and drive business growth.
One of the most exciting developments has been the integration of live community shows with our product adoption efforts. These deep dives into new features and capabilities are helping customers better understand the full potential of Reltio's offerings, ultimately leading to more opportunities for expansion and growth.
We've also been working to unify our various content channels, bringing together community, docs, support, and YouTube in one place for a more streamlined and user-friendly experience. This is part of our broader effort to improve the customer experience across all touchpoints and make it easier for users to find the information they need.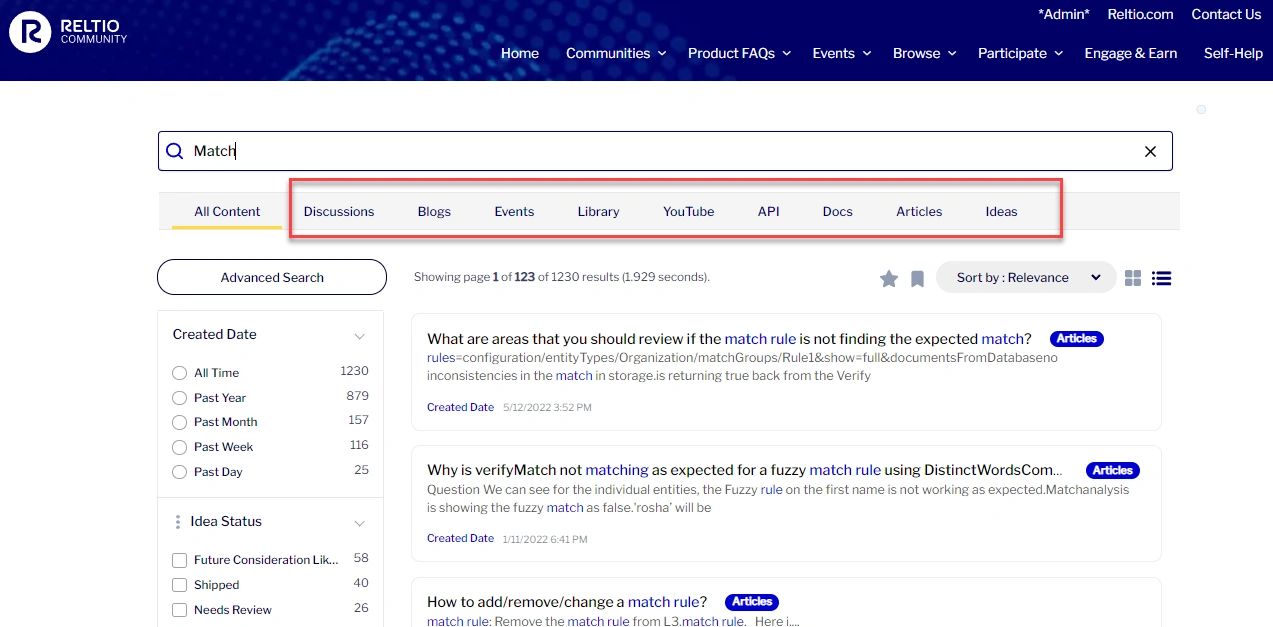 All of these developments speak to the power of community as a tool for amplifying our customers and prospects. By showcasing real-world success stories and giving users a deeper understanding of our products, we're able to build stronger relationships and foster greater trust with our audience.
At a personal level, I'm incredibly proud of the work we've done in FY23 to make community content a more integral part of the Reltio experience. It's been amazing to see the impact this work has had on our customers and prospects, and I'm excited to see how we can continue to build on this momentum in the coming years.
Ultimately, the success of our community content strategy is a testament to the power of collaboration and engagement. By working together with our customers, partners, and employees, we're able to build a stronger and more vibrant community that truly benefits everyone involved.
It's been amazing to see how much engagement we've been able to generate through the Reltio Community in FY23. Customers and prospects are engaging with us more than ever before, and it's all thanks to our community-led growth activities.
One of the biggest hits this year has been our community-led onsite events. These have been fantastic opportunities for customers and prospects to come together, share their experiences, and learn more about Reltio's products and services. We've received overwhelmingly positive feedback from attendees, and it's clear that there's a real appetite for more of these events in the future.
In addition to our onsite events, we've also been using the community to share thought leadership content with executive customers and prospects. These topics have sparked some interesting discussions and have helped position Reltio as a leader in our industry.
Finally, our technical topics have been a major draw for customers and partners alike. By bringing together experts and users from across our community, we're able to facilitate some truly engaging and productive discussions around the ins and outs of our products and services.
All of these community-led growth activities have fueled engagement and peer-to-peer networking in ways we never could have imagined. It's been an incredible journey, and I'm so proud of the work we've done to build a vibrant and engaged community around Reltio's products and services.
So there you have it, a glimpse into the world of online community metrics and the power of storytelling. By understanding what we're solving for, tracking key metrics, and sharing our successes in a relatable and engaging way, we can build stronger communities that truly make a difference in people's lives.
When it comes to building a successful online community, our employees are key. Without their hard work and dedication, we simply wouldn't be able to achieve the kind of engagement and growth that we've seen in FY23.
One of the most important roles that our employees play is in answering questions and providing support on the community. Whether it's helping customers troubleshoot an issue or simply pointing them in the right direction, our team is always there to lend a helping hand.
Beyond providing support, our employees are also taking an active role in community events and shows. We've had team members get in front of audiences of sometimes 100+ customers and partners to present on topics ranging from technical deep dives to thought leadership. It's been incredible to see how passionate and knowledgeable our team members are, and how eager they are to share their expertise with the broader community.
In addition to presenting at shows, our team members have also been active in writing community blogs and leading roundtable discussions. By sharing their perspectives and insights, they've been able to spark some interesting discussions and deepen the sense of community among our customers and partners.
Our team members have been covering industry-level topics that they've never covered before through virtual shows. This has been an amazing opportunity for them to expand their knowledge and expertise, and to connect with others in their field.
Overall, our employees are leading the way in so many ways when it comes to building a successful online community. They're dedicated, passionate, and always willing to go the extra mile to help our customers and partners succeed. I'm incredibly grateful for all the hard work they've put in over the past year, and I can't wait to see what we can achieve together in FY24.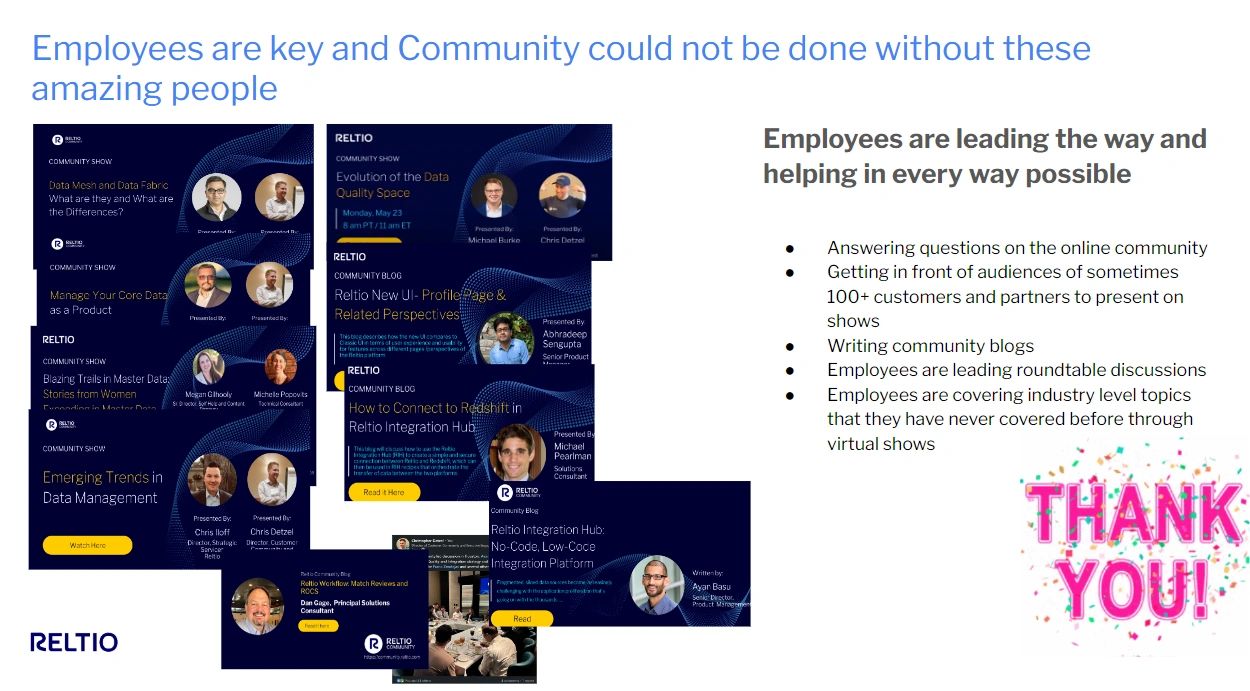 Looking forward to FY24, Reltio is prioritizing initiatives that will help the company better connect with its community of users and drive growth. These include relaunching customer spotlights, motivating user advocacy, and creating thought leadership content. The company aims to influence expansion through its community activities and to host a customer/prospect conference to increase awareness and loyalty. Additionally, Reltio is revamping its online community and automating reporting to better understand community interactions and their impact on renewals, expansion, and new pipeline. Finally, Reltio is aligning internal teams to drive community effectiveness and connections through engagement activities, working together to build a strong and engaged user community.